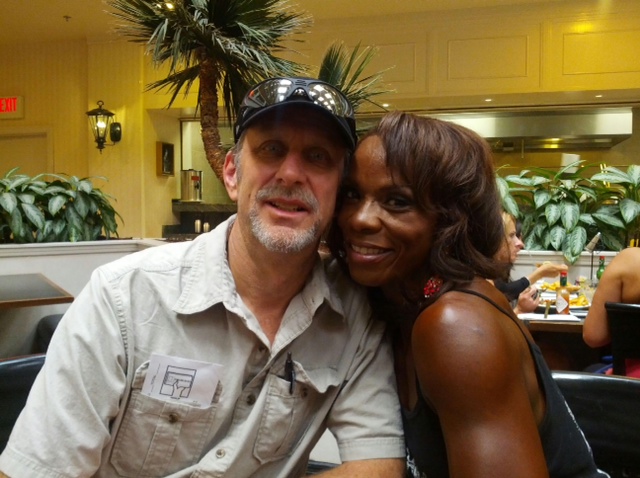 This picture was taken after competing in my FIRST Nationals in Vegas 2012…and I didn't place. My husband Kurt is my biggest fan 🙂
For those of you that don't know my story, I began competing in figure April of 2011, winning 3 trophies my first show at The OCB Regionals. Then two weeks later, I won 2 more trophies at The Natural North American, one placing from getting my WNBF pro card!
Now totally hooked, I began training for my first National Physique Committee (NPC) Regionals in Pittsburgh. I took 3rd place which qualified me to do any NPC Nationals. That didn't mean I SHOULD have gone right to nationals…but I did.
I headed out to Vegas to get my IFBB Pro Card the first time out!
But it didn't work out that way. I went from winning every show to NOT placing at all, actually coming in 13th. But if you think about it, figure competitions are just that…competitions. And in most sports, newbies or rookies don't come right out winning. There are some exceptions but it takes time to learn any sport and figure is
no different.
Of course I was disappointed about not getting one of those 5 trophies, but it gave me time to reflect on the situation. I wasn't ready for that Nationals. I didn't let not placing keep me from pushing forward and I competed again in November of 2012, placing for the first time at Nationals in Atlanta (5th place).
So maybe you didn't win a trophy your first show or place at Nationals. What now?
Get feedback first and foremost from your coach (if you had one) then the judges to help you map out your next show and training needed to be more competitive. Keep it moving toward your dreams, because you have to be willing to LOSE to win!
One thing I remember Jon Lindsay (the promoter for the show) saying to one of
the girls who didn't place (like me) in Vegas, "honey, you are all winners to me."
And we are!
Want to place higher your next show?
Try my proven do-it-yourself prep system, Contest Prep Secrets
Or let me help you nail it with private coaching.