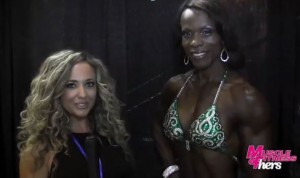 For media inquiries, please contact:
Kimberly Doehnert, IFBB Pro, CEO
Fitness 4 Life Consulting, Inc.
Email: MEDIA
Kimberly has been interviewed and featured in numerous media outlets such as CNN, Gaiam Life Magazine, Muscle & Fitness Hers, Better Homes & Garden, and WTOP.
No Nonsense Magazine | Kimberly Doehnert, New IFBB Figure Pro (Volume 18, Number 4, October 2013)
Evogen Nutrition | Kimberly Doehnert Turns Pro Using Evogen (August 16, 2013)
RX Muscle | Kim Doehnert After Winning Overall 45 + Figure At The 2013 NPC Teen, Collegiate & Masters Nationals! (July 24, 2013)
National Physique Committee (NPC) | NPC Masters Nationals Figure 45+ Winner (July 21, 2013)
Muscle & Fitness Hers | NPC Masters Nationals Figure 45+ Overall Winner Kimberly Doehnert (July 21, 2013)
WTOP | The dangers of workout supplement Jack3d (February 23, 2013)
WTOP | Less time at the gym yields same results for older women | February 19, 2013
Gaiam Life | 20 Minutes to Fit (July 10, 2011)
CNN | New Year's Resolutions, There's an App for that (aired January 2011 on CNN & affiliate stations nationwide)
Better Homes & Gardens | Blogs We Love (January 2011 issue)
Speaking Engagements
Book Kimberly for your next event as a motivational speaker or fitness expert. Kimberly can also be a guest on your online radio show, podcast, telesummit, webinar, or contributor to your magazine or blog.
If you host an online radio program, podcast, teleclass, webinar, or planning a corporate event, Kimberly would be thrilled to be a guest. She can even supply you with pre-written interview questions to ensure an effective conversation full of actionable content for your audience.
Email Kimberly at MEDIA with a brief description of your interview or speaking opportunity.