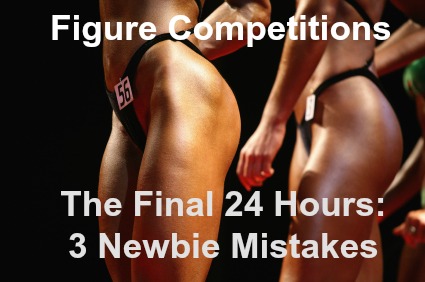 Most women who have never trained for a figure competition will need to take between 12-16 weeks to prepare depending on their current fitness level.
And wouldn't it be a shame to train so hard for that long and totally make rookie mistakes at the end that could have you coming up short in front of the judges?
Heck, even some seasoned athletes make tiny mistakes that have a huge impact on how they place at finals. I see it all the time–figure girls who missed the final benefits of peak week those last hours of their contest prep. Sometimes it can be the smallest thing you forget to do…
New figure and bikini competitors may not be aware of the last steps to the stage unless they are following a detailed prep program or have a coach.
But I will share with you the top 3 mistakes (there are more unfortunately) that can keep you out of the FIRST CALL OUT for sure!
⚠️
Mistake #1 Not getting your nutrition right (it starts the day before). What you eat the day of your show is not random. This is not the time to start eating treats and letting your hair down because you made it this far. Managing your water, carb, calorie, fat grams and when you take them in–is critical to bringing full muscle bellies that will give you overall balance and wow the judges.
The day before your show–eat fibrous carbohydrates through lunch, and then introduce a good amount of complex carbohydrates with your dinner.  Depending on your desired level of leanness–how much sugar these carbs have need to be assessed.
The day of your show, make sure you eat something for breakfast with carbohydrates. The next meals are specifically based on when you hit the stage. Your carb up meal should be eaten based on stage time. Getting this wrong can land you in the last call outs.
⚠️
Mistake #2 Not finding the right water & sodium balance (end up looking too soft or lean). When you start cutting water is very specific the day before and during your competition. The one secret I will share with you regarding water is that you need to drink just as much as your peeing out. That means if you stop peeing, you are not drinking enough water and at risk for dehydration, which can give you an awful case of cramps. I have seen competitors not come back for finals due to severe cramping and abdominal pain from not drinking enough.
⚠️
Mistake #3 Not paying attention to your program (getting distracted). I know you are going to be so excited the day of your competition and link up with other girls you meet competing for the first time. I will say that for a couple of my shows, I got caught up in the backstage drama and forgot to eat, drink, put on my final coat of tan, and glaze. I even forgot to put on my jewelry at finals for my first Nationals in Vegas!
So you can imagine I was feeling off knowing I had forgotten some key elements I needed to shine on stage. I have even seen athletes turned away because they missed their line-up. The expediters call your number a few times and don't go looking for you! Pay attention to what you need to do and where you need to be at all times.
I'm not saying don't have fun–but continue to focus on your program goals and the steps you need to be successful will allow you to walk out on stage feeling confident.
And remember, the ultimate mistake would be not showing up with a stage ready body. Peaking only happens when you have followed a progressive plan all the way to the stage. Want to make sure you get everything right?
Click the button below to schedule a consult with me.