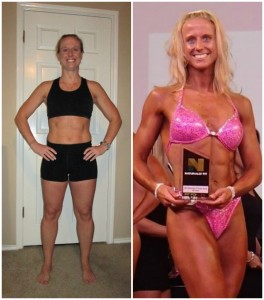 "I have been in sports and considered myself and athlete all my life; even ran track through college. 
I have a degree in exercise physiology and a masters degree in nutrition. In 2010, after 10 yrs of marriage I went through a divorce. All the stress made it easy to make excuses, picking up food vs. cooking and skipping workouts.
In January of 2011 I topped the scales at 163 pounds! Enough was enough! 
By January of 2012 I got my weight down to 148-150 pounds. A friend of mine mentioned his interest in competing in bodybuilding and challenged me to do a figure competition. My competitive nature kicked in and away I went.
Kimberly, I started your system, Contest Prep Secrets at 150 pounds, 20.3% body fat. The most challenging part for me was nutrition.I struggled to eat enough food but quickly learned that in order to put on more muscle, I had to hit the calorie goals laid out in the plan.
After just 16 weeks, I stepped on that stage for the first time at 134 pounds and 12.6% body fat! I won 4th Place at a Pro Qualifying show!
Throughout this journey I had to keep self-reflecting… 
Stop looking at pics of others and concentrate on the pic of me! Reminding myself how far I have come and realizing too, that I don't want to go back. I may not compete forever, but I will maintain this healthy lifestyle for me and only me!"  ~Chrissie Jacobs