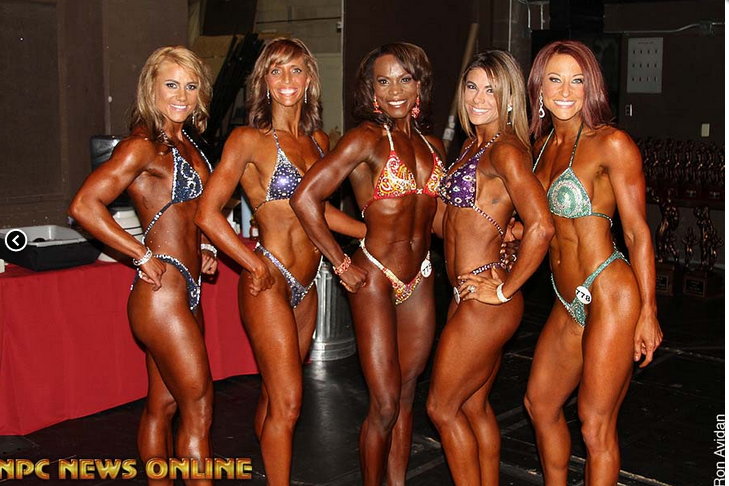 If you have never stepped on stage before, I am sure you have tons of questions!
Here are answers to the some of top ones I get about  competing for the first time:
Q: How long does it take to be ready for a figure or bikini competition? 
A: Depends on your current weight (how much body fat you need to lose) and the amount of muscle you need to develop to competitive. For example, you need to lose 20 pounds. The average girl loses 1-2 pounds per week. So, it would take 10-20 weeks. I'd split that time in the middle and shoot for 16 weeks. That way you have some wiggle room for training set backs and illness that would. You should choose prospective show dates based on how long it will take for you to lose the weight and create the right shape the judges are looking for on stage.

Q: What is the difference between figure and bikini? And how do I know which one is better for me? 

A: Bikini competitors have less muscle than figure athletes and more of an "curvy shape but lean. The judges are critiquing bikini athletes on overall healthy body symmetry. A bikini athlete should not be overly muscular or have striations in their muscles. Should look a bit more "soft" than figure or bodybuilding competitors but not have excess body fat. Figure competitors have a good amount of muscle and have a more "square" shape. They should not have striations like in physique and bodybuilding classes. The class that will be best for should be based on your current body type and training style.
Q:Which supplements should figure and bikini athletes use to cut body fat off safely? 

A: Common fat loss stacks can include fish oils, fatty acids like CLA, caffeine, green tea extract, L-carnitine, vitamin C, magnesium, and fiber.
Q: How many workouts do competitors need to do each week?

A: Figure competitors should train with weights at least 5 days and hit the major body parts at least once per week with a pick-up day for lagging body parts. Depending on the phase of training, figure competitors will train 6-7 days a week and split up sessions (2 x day). Bikini competitors combine several body parts together in one workout, have lighter training volume than figure, and train 3-4 days a week with weights. The final phases include more circuit training and short sessions HIIT cardio.

Q: What are the judges looking for? Any tips for placing in the top 5? 

A: The judges are looking for an overall toned and balanced physique. A few tips to place in the Top 5 is to have the right amount of muscle for your class, good stage presence, the right level of leanness, and be able to execute those poses with ease! Confidence is key!
I know this is just the tip of the iceberg but I do answer more specific questions about contest during a free Competitor Consult <<<