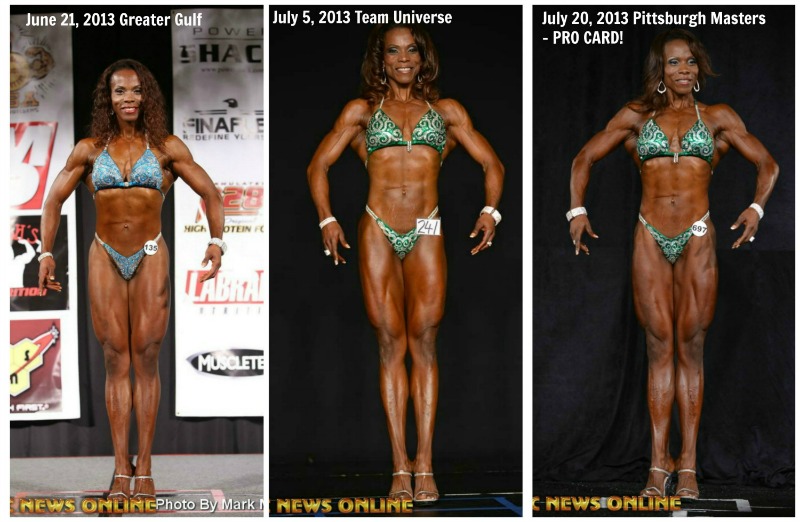 When I decided I was going for my pro card in 2013…
I chose a series of shows that would allow me to get in front of the right judges, get feedback to improve and lock in on those areas that needed work. As you can see in this progression photo–I was able to keep tweaking my physique to end up with a winning package in just 30 days!
But I know as a newbie athlete, you may not understand all the factors that go into creating a figure or bikini prep program that will progressively get you stage ready. And right now you may be feeling discouraged because the results are not coming fast enough.
Hold on, before you throw in the towel, here are my TOP tips to get your program moving again.
–>>Get more tips and secrets about dieting, DEPLETING, and adjusting your figure program in my contest prep home study program<<–
1. Analysis – are you keeping track of your progress based on all factors? Weight, body fat, measurement of muscles/problem areas, and how you look are the only ways to assess if you are moving in the right direction
2. Adjust your training split – you can add mini workouts for body parts that you want to improve on, For example, if you normally do 4-6 exercises on back day–you can add a few more different exercises to hit other parts of the back on leg day. I sometimes will include mid back to my leg day to hit it more than once a week but not a full workout.
3. Don't marry your meal plan – you have to be willing to adjust your fat, carbs, protein, and sugar along the way to keep your body utilizing fat stores and retaining lean muscle.
4. Adjust cardio intensity – just adding more cardio is not going to guarantee continued fat loss. In fact, too much cardio can keep you from gaining and keeping lean muscle mass. So before you head into 2 hour cardio zone, just do more with what you have. Maximize with intervals to burn even more calories in less time.
5. Run a deplete – for me this means increasing training intensity, specifically reducing/increasing certain macros for a limited amount of days to get the body to reset. An effective deplete addresses training, diet, supplements and cardio in the right incremental adjustments.
–>>Get more tips and secrets about dieting, DEPLETING, and adjusting your program in my contest prep home study program<<-–
THIS is how I won my pro card…I was willing to make the necessary changes quickly to keep progressing towards my goals 🙂