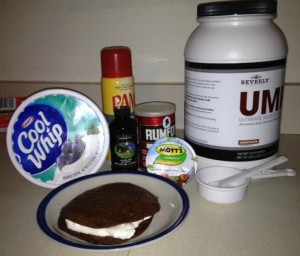 Got a sweet tooth figure girl?
Here is a guilt-free recipe I got from Cheryl Davis, IFBB Figure Pro. It's loaded with protein and chocolaty goodness!
Whoopie Pies
Ingredients:
1 scoop of chocolate ultimate muscle protein (UMP)
1/2 tsp bking powder
1/2 tsp vanilla extract
1/3 cup apple sauce or 1/2 large banana (I used Natural Motts Applesauce)
2 tbsp sugar free & fat free cool whip
water
Directions:
Preheat oven to 350. Mix protein powder, baking powder, vanilla extract, and apple sauce/banana in a bowl.  Slowly stir in water until you get somewhat thinner consistency of cookie dough.  Spray a baking sheet with oil spray.  Pour 2-3″ round amounts of the mix onto the tray and bake for 5-7 minutes.  Let cool 5 minutes.
Add fat free cool whip in between the two "cake" pieces, put in the fridge for 10 mins or enjoy instantly!
Nutritional Information:
Servings: 1
Calories 174,  18g carbs, 20g protein, 4g fat, 2g sugar, 2g fiber