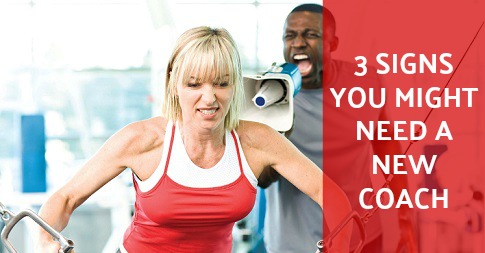 One of the best decisions I could have ever made was hiring a coach after placing 13th at my first Nationals back in 2011.
Being a personal trainer and prep coach, I spent an enormous amount of time helping other athletes, so my own training had begun falling short.
Having a coach allowed me to focus on getting the work done vs. creating the path.
Being coached provided accountability that was the key to me going pro!
Whether you are looking for a coach or currently have one…
Here are 3 signs you DON'T want to ignore:
#1 They don't take any initial or ongoing assessments.
The first step in the coaching relationship is to take some initial information about you.
IF you have paid for a coach to work with you and all they did was send you out the printed program, this should raise a huge red flag!
A quick questionnaire about your current health & fitness level should be completed prior as part of the process and photo included for assessment.
I include a complimentary phone call before I begin working with a client to ensure coaching is a good fit for their goals.
#2 They ask you to do things that are not healthy or safe.
I want to share a quick excerpt from a Facebook message I received from a prospective client about her nightmare experience with a coach.
It's heart wrenching and speaks for itself 🙁
"This coach had me on 2 hours of cardio a day (sometimes I did this sometimes I didn't because I didn't have the energy), no more than 1,000 calories a day and a diet of only chicken and broccoli, then fish and grapefruit and spirulina.
Some of my teammates were only on spirulina water and a grapefruit a day. I trained for over 6 months, while I lost some weight–I don't think I gained muscle, gained the weight back, lost a love for working out, and had to deal with a host of psychological issues.
My coach would constantly give negative motivation pointing out the fat in my stomach, saying I wasn't losing enough (even though I was losing 1-3 lbs a week) and put me on a fruit only fast…" 
A fruit fast???
Bottom line, listen to your gut instincts. If it doesn't sound right to you, ask questions. You should be able to trust your coach and the information that is given to you.
#3 They don't respond to your emails or calls.
As part of your program, there should be scheduled calls and/or emails weekly to track your progress and ensure you are making the right adjustments.
If you can't get your coach to answer your questions or give productive feedback, there is no way you will end up with a stage ready body!
I've been blessed to work with some of the best coaches in the industry and help hundreds of women realize their dreams of winning figure and bikini competitions.
I hope these tips help you choose the best coach for your needs.
If you'd like to chat with me about coaching, my calendar is about to open for new clients. I'd love to help you!