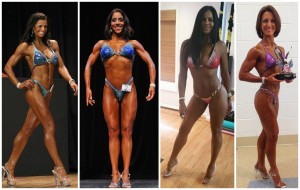 If you have never stepped on stage before, I am sure you have tons of questions!
Here are answers to the some of top ones I get about  competing for the first time:
Q: How long does it take to be ready for a figure or bikini competition? 
A: Depends on your current weight (how much body fat you need to lose) and the amount of muscle you need to develop to competitive. For example, you need to lose 20 pounds. The average girl loses 1 pound a week. So, 1lb x 20 weeks. You would need to give yourself 24 weeks to prepare. That way you have some wiggle room for if you get sick or need more time to reach those goals. You should choose prospective show dates based on how long it will take for you to lose the weight and create the right shape the judges are looking for on stage.

Q: What is the difference between figure and bikini? And how do I know which one is better for me? 

A: Bikini competitors have less muscle than figure athletes. The judges are critiquing bikini athletes on overall healthy body symetry. A bikini athlete should not be overly muscular or have striations in their muscles. Should look a bit more "soft" than figure or bodybuilding competitors. 
Competitor Consult <<<

Q:Which supplements should figure athletes use to get the fat off safely? 

A: Common supplements are fat burning stacks, mass amino acids, good multi-vitamin, fish oil, digestive enzymes, glutamine for recovery 

Q: How many workouts each week do I need to effectively train for figure? Bikini?

A: You should train with weights at least 5 days a week. Depending on the phase of training you are in, there are times where you will train 6-7 days a week and split your sessions. Bikini in the early phase can follow a more total body workout program and train 3-4 days a week with weights. 

Q: What are the judges looking for? Any tips for placing in the top 5? 

A: The judges are looking for an overall toned and balanced physique. A few tips to place in the top 5 is to have the right amount of muscle for your class, good stage presence, the right level of leanness, and be able to execute those poses! Stage presences is key here! 
I know this is just the tip of the iceberg but I do answer more questions and break down the whole step-by-step process to go from newbie to figure champion during a free Competitor Consult <<<