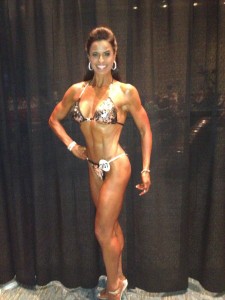 I chatted with my client Laurene Engelbrecht, fitness pro and model about the challenges competing places on family. Laurene is an amazing woman inside and out and she shared 7 tips that enabled her to step on stage and still be a fantastic mom! Read her story…
"For me it was definitely letting go of the guilt of spending money and time on myself. The pay off's for my kids were incredible though. They gained huge respect for me and for my goals and for my achievements.
I found it was very important to explain to them what I was doing, what I would need in terms of time and support from them. I also learned how to convert my staples into tasty meals for them. Like turning my chicken breast into chicken fingers for them or making my cooked chicken into a chicken curry by adding the curry spices of my choice and some light coconut milk. This saves loads of time and makes your food prep a family food prep = less guilt 🙂
I am always sharing with them why I can't indulge in certain food with them and why they can (their growing bodies can have a treat or two without negative effects). I also still sit at the table with my family at meal times and do my best to time my meals so I can eat with them. 
The most important thing is to show them how much fun you are having. Always stay positive, even through carb depletion. Take them to the gym every once in a while and show them how strong you are and let them give a few exercises a try. They understand how fun– having fun is, right? If you share your fun with them, they will get it :).
Make a count down chart to show time, especially for younger kids. That way it becomes more 'real' to them and get them involved in choosing your suit colour (after you've already approved the final choices of course ).
My older kids loved that their friends would comment on how fit I was looking. I would accept each complement from my kids with gratitude and always tell them that their support and pride motivates and inspires me immensely. 
I never use the term 'fat' or 'losing weight' in front of my kids. It's all about the muscle and symmetry in our discussions and how fit and strong I'm becoming.  A Mom needs to respect her goal as much as she respects being a good mother. A Mom on a health mission is an incredible Mom all round  🙂
I have so many more thoughts an ideas I can share but hope this helps another mom realize she can achieve her dream of stepping on stage like me!  -Laurene"
Hey moms! What are some of your personal challenges juggling prep & family? Comment below!