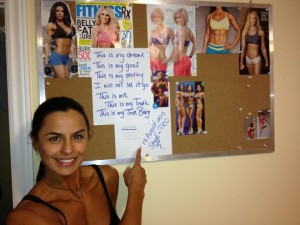 **This is a guest post from one of my former clients, Laurene, an amazing woman who turned her vision of stepping on stage into a reality! I hope it helps you see what is possible.
5 Steps to Visualize Yourself on Stage
As the New Year approaches and we get ready to welcome 2014 with all its promise and newness, it is the time of year when most of us reflect on what we've accomplished and on the goals that lay ahead. For me, a Vision Board is a Must-Have when it comes to setting my goals, cementing my intent and focusing my mind.
A Vision Board is an incredible tool that helps to keep you focused, to keep your goals visible and 'front of mind' daily and to motivate and inspire you to push towards your Best, every day.  I tend to create a Holistic Vision Board that incorporates Physical, Spiritual, Emotional, Social, Financial and Family goals for the year.  BUT, when it comes to setting my Competition goals, I create a specific and detailed vision board that focuses specifically on this ONE area.
Really, a Vision Board is just a visual display of images, quotes and inspirational pictures.  You get to choose images that speak to you, images of (in my case) Figure Competitors and winners who inspire me and who I'd like to model my physique to.  This is where you get to play with the "What could be's".
The power of a vision board lies in the effect it has on your Mind.  When you are bombarded by inspirational images daily, your mind and subconscious quite literally go to work creating what your eyes see daily, as your actual reality.  Yes, that is truly how powerful your mind is and many studies in the field of Neuroscience have proven this. Now, if you chose images that conjure up strong emotions like excitement, awe, joy, peace, pride, determination etc., science shows that your subconscious mind will work harder and faster to make sure what you see, becomes your reality.
Now of course Vision Boards are not magic.  You'll need to put in the work from your side for example, eating and training to a specific plan for your goals, but what the Vision Board does do, is inspire, motivate, remind and it assists your subconscious mind to act as if your goals have already come to fruition. And those of you who have trained to step on stage know that you'll need all the psychological help you can get!
This is how I create my vision board:
1.    I start with a stack of magazines, a pin board and pins . I like to use a large pin board that goes on my wall, because I get to keep adding inspirational images and quotes as I progress, but some find a large piece of cardboard with images glued into place, works better for them.  There are no rules here, you go with what works for you.
2.    Start tearing out any and all images that speak to you.  All of them!  It does not just have to be images of competitors, it can be an image that just conjures up a strong positive emotion too.  If you are motivated by your family and you'd like to show them how strong you are, put a picture of them up there.  That way you will always be reminded why you started your journey in the first place.  Of course beautiful physiques need to be up there too, especially ones holding trophies, if that is your goal 😉
3.    Make this process fun.  Make sure you are feeling positive, determined and optimistic while you are created your Vision Board, because you will actually be projecting your emotions onto your board.  And DREAM BIG!!! You are so worth your BIGGEST dream! This is where you get to put all your 'what-if's' aside and work only with 'I can'. Now go through all the images you've torn out and select those that you'd like to use to create the story of your goal.
4.    Once your Vision Board is completed (you are always allowed to change, add or take away those images that don't speak to you anymore or serve you in the pursuit of your goal), place it where you will see it every day.  The very best place to hang it is where you'll see it every morning as you open your eyes and just before you fall asleep.  These are the times when your subconscious mind is at its most powerful.
5.    Now, a last tip.  When you go to bed, look at your board, close your eyes and visualize, in detail, using every one of your senses, what it would be like when you achieve your goal. So for instance:
–       See the suit you will be wearing. Take in the beautiful colors, see your body at its best, see your abs popping, see your body tanned, see the bright lights of the stage and see your family smiling proudly while you nail your quarter turns like a Pro.
–       Try to imagine some of the smells.  If you have ever competed before, it will not be difficult to conjure up the smell of Pro Tan or JanTana  😉
–       Imagine the taste of the delicious spoonful of Peanut Butter you are going to have before you hit the stage.
–       Hear your family and friends cheering you on from the audience.  Hear the Head Judge say: "Ladies, quarter turn to the right" and hear yourself say: "I did it, I've got this"
–       Now feel it all.  Imagine touching the beautiful crystals on your suit, feel yourself sliding on those clear heels before going on stage, feel your body nailing those quarter turns, but most of all….FEEL PROUD!!! While you lie in bed visualizing every night, feel proud of who you are, how far you've come and who you are becoming.  You've already won. The first day you decided to change your life, the first day you decided that your comfort zone, as it was then did not serve you or allow you to become the Best version of you, that was the day you WON.  The rest is just the icing on the cake…
Have fun with your process, goals and dreams whatever they are and have loads of fun creating your Vision Board and ultimately, your Reality!
In this age of smart phones YOU get to take a picture of your Board and have it with you wherever you go.  Make it your background, your screensaver etc.  Now live it!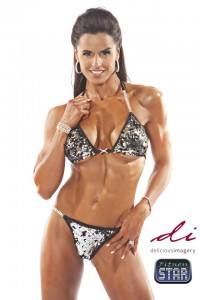 See all you lovely ladies on stage!
Schedule a stage strategy call with Kimberly to take your vision to reality!