Sandra contacted me online about training for her first bikini competition. She was getting bored with her current fitness program (Crossfit) and wanted a new challenge. She is active duty military and super motivated!
Her ultimate goal is to step on stage, but after her complimentary consult with me, we decided to start with a pre-competition program. Keep reading to get her stats and first workout!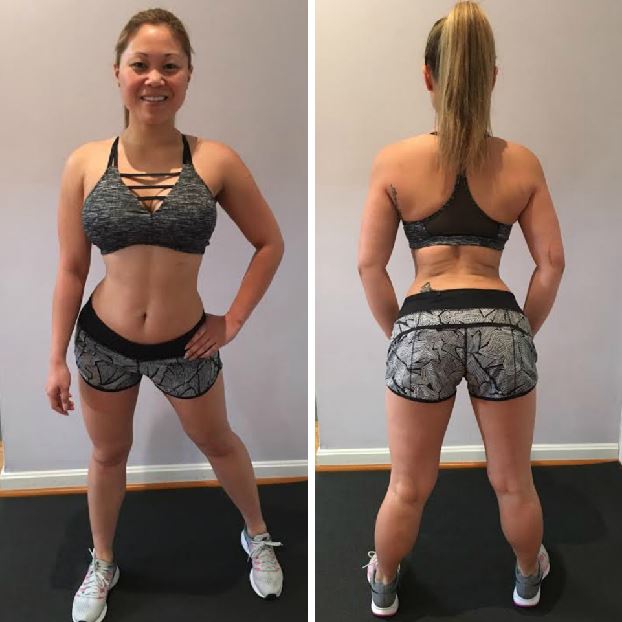 Day 1 Stats (March 11, 2017):
Height: 5'2
Weight: 135.2
Waist: 29.5
Hips: 37
Sandra's 90-Day Bikini Transformation will include workouts, meal plans, and supplements that will be adjusted regularly to avoid plateaus. She is training in the studio 2 x per week. But most of her training program is online with regular check-ins and at-home/gym workouts to get accelerated results!
To reduce any bulky areas of her physique and lean out all over, we are beginning with custom circuit training. She completed (2) intense circuits, 4 exercises each x 3 sets that included a cardio blast in between sets. Each exercise was done for 60 seconds and 60-90 seconds rest between circuit sets. My custom circuits are unique because they include strength and cardio all in one! It took Sandra around 45 minutes to complete her first workout 🙂
Here is Sandra's Circuit #1
Dyna Ball Slams
Squat Thrusts
DB Jumping Jacks
Reverse Lunges with Tricep Kickbacks
Cardio Blast 2 minutes on Treadclimber
Stay tuned for regular updates on Sandra's progress!
Are you ready to transform?
Awesome! I can work with you online or in my Springfield Virginia studio.
I'll create kick-ass workouts that melt away all the fat and reveal that lean, muscular body you've been dreaming of!
Schedule an online or studio consult here. Competitor and Non-Competitor training available!!!
Not on my email list? Sign up for my Figure & Bikini Newsletter here.