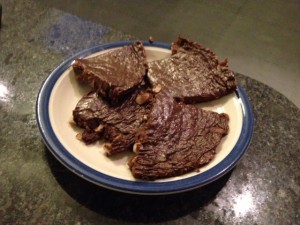 Hi Ladies!
Many of you have asked how I make those brownies I post on the Facebook page. I only use Beverly International Ultimate Muscle Protein, so using any other brand may yield different results/taste/nutrition. Depending on where you are in prep, you can modify the ingredients to fit your macro needs 🙂
INGREDIENTS: 
2 scoops chocolate UMP Beverly International , 1/2c of no sugar applesauce, 3/4 to 1 cup of water, 2 stevia packets or 10 drops of vanilla creme sweet leaf stevia, 2 TBS of no sugar organic coconut flakes (optional), 1 TBS of flax seeds or chopped walnuts (optional), 2 TBS of liquid egg whites, 1 TBS of Natural Peanut butter or PB2 (optional).
Directions:
Mix all ingredients together into a brownie batter (not too stiff, or too loose) and pour into non-stick sprayed pan. Cook in oven on 400 degrees for about 8-12 minutes, don't overcook! Enjoy ♥
Nutritional Breakdown:
THIS batch yielded 4 servings = 100 cals, 5.25g carbs, 4.5g fat, 10.75g protein, 1.75g sugar
You can buy Beverly Ultimate Muscle Protein (UMP) on Bodybuilding.com 
Get more figure girl friendly recipes FREE with Contest Prep Secrets!