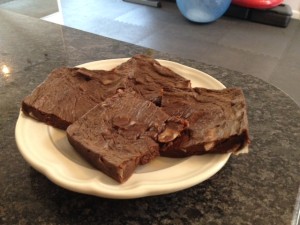 These brownies are super easy and quick to make. I only use Beverly Protein powder, so if you use another brand, the consistency & taste will not be the same lol.
Ingredients:
2 scoops of chocolate Beverly Ultimate Muscle Protein
1/2 cup of no-sugar added applesauce
2 TBS of organic coconut flakes, no sugar (optional)
1 TBS of liquid egg whites
1 TBS of natural peanut butter
1/4 TSP of organic cinnamon
5-8 drops of vanilla creme stevia
1/2-3/4 cup of water (consistency should be stiff not too watery)
Directions: 
Mix all ingredients in microwave safe dish. Spread in bottom of dish. Cook in microwave 5-7 minutes on 70% power. Don't over cook, should be a bit soft in the center when you take it out. Can cook in oven on 375 degrees for 8-12 minutes until a bit wet in the center. Let cool, and cut into 4 servings.
Nutritional Info: 
Per brownie: Calories 117 | Carbs 7g | Protein 12g | Fat 6g | Sugar 4g | Sodium 118mg
Get more figure recipes here.