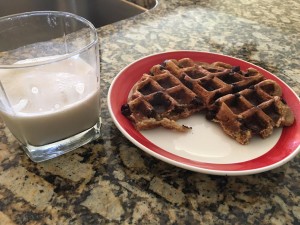 Ingredients:
This recipe is dairy, gluten, and soy free.
1 Cup gluten free oatmeal
1 TSP Swerve (or other natural sugar alternative)
1/2 TSP  vanilla extract
1 TBS, dairy free chocolate chips (optional)
1/2 small banana
1 scoop of NuZest Vanilla Protein Powder
1 cup of water or unsweetened 30 calorie almond milk
Directions:
Blend all ingredients except chocolate chips in food processor until super smooth
Slightly stir in chocolate chips (optional) before pouring on heated waffle iron
Cook until done (light on waffle iron will turn)
Top with drizzle agave nectar or sugar free syrup (optional)
Makes 2 waffles. Serving size is one waffle
Macros: Without chocolate chips
*You can swap out chips for blueberries or strawberries.
Calories 207 | Protein 16g | Carbohydrates 28g | Fat 2g | Sugar 7g | Fiber 4g