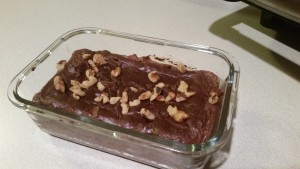 That old sweet tooth starts rearing its ugly head! So before you derail your prep sticking those fingers in the kid's cookie jar, try these guilt free protein brownies even your family will love! My husband looks forward to a batch coming out the oven for a late night desert that won't bust his waistline lol.
Need help with meal plans, supplements and training? Learn more about my program  here.
Protein Brownies
Ingredients:
2 tbsp Fresh Ground Peanut Butter
4 oz cup  Unsweetened Applesauce
4oz (or half) banana
1 fl oz Unsweetened Almond Milk (or enough for brownie consistency)
2 large egg (white only)
2 packets of Stevia
1/4 teas vanilla flavoring
1 tbsp Chopped Walnuts (opt)
Instructions:
Mix all ingredients together (except walnuts) into a thick batter. Put into glass dish sprayed with non-stick.
Cook on 400 degrees for 10 minutes or until slightly soft in center. Make sure you don't dry it out. The little bit of gooey in the center is key for moist brownies!
Cut into 6 small squares. Enjoy!
Get the full diet and training program for figure and bikini here.