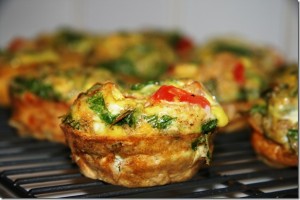 These portable energy-revving muffins are great to make in advance and use throughout the week!
Ready in 40 minutes, Makes 12 servings
Ingredients:
Oil spray
4 scallions, minced
2 carrots, shredded
1/2 red pepper, minced
1/2 zucchini, shredded
14 egg whites
4 whole eggs
1/2 tsp basil
1/4 tsp oregano
1/2 tomato diced (optional)
Dash sea salt and pepper
Instructions:
Preheat oven to 375°F. Coat a 12-muffin tin with a little oil to prevent sticking.
Combine vegetables in a big bowl. Fill each muffin tin 2/3 full with vegetables.
Whisk eggs and seasonings in a large mixing bowl.
Use a 1/3-cup measuring cup to scoop egg mixture and pour slowly into each muffin tin. Egg mixture should fill tin the rest of the way. Bake 30 minutes or until muffins have risen and are slightly browned.
Nutrients per serving (98 g):
Calories: 56, Total Fats: 2 g, Saturated Fat: 0.5 g, Trans Fat: 0 g, Cholesterol: 71 mg, Sodium: 93 mg, Total Carbohydrates: 3 g, Dietary Fiber: 1 g, Sugars: 2 g, Protein: 7 g, Iron: 0.5 mg
STORAGE TIP: Muffins will keep up to one week in the refrigerator or can be frozen. If freezing, allow to thaw in the refrigerator overnight.
Just need figure diets and recipes? Click here.