For first time figure & bikini competitors, it could take 12-24 weeks to prepare.
It could take longer depending on how much muscle you need to gain and how much body fat you need to lose to be competitive.
Because let's be honest…
 If you are going to bust your butt for all these weeks, you also want to take home some hardware, right?
Here's an excerpt from Contest Prep Secrets Bonus #2 Fix Your Prep (page 111).
It gives you some good height, weight, and body fat recommendations for figure & bikini.
I'm going to use the average height for example:
For Figure: 
5'5" 120-130 pounds, 8-12% BF
For Bikini: 
5'5″ 110-120 pounds, 10-15% BF
 You can follow this easy guide for calculating how many weeks you need. 
Average weight loss – 1-2 pounds per week
If you have 20 pounds to lose: 10-20 weeks.
Always allow 2-4 additional weeks for fixing areas, getting past plateaus, or illness.
Now, you can pick the best show based on realistic timelines. More on that later…
It took me about 24 weeks for my first show (see photo below). I took my time and had fun along the way!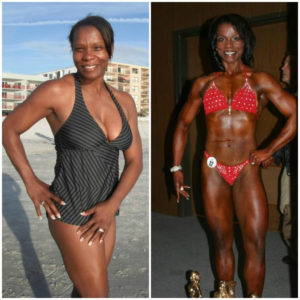 Need help with your prep?
Learn more about the system I created for new competitors here.
Give yourself enough time to train, compete, and WIN your competition.