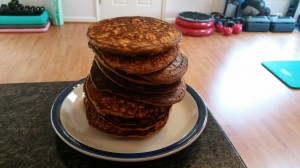 This delicious creation was adapted from a recipe a friend gave me.  I love this recipe because they taste like little sweet potato pies! These tasty cakes are a great pre-workout pump or post workout re-feed. It has practically saved my prep, no more cravings! lol
Now, depending on what brand of protein, substitutions etc, your macros may be different than those listed.
Recipe makes 3-4 cakes and the macros are for the entire batch. You can eat half or all depending on your calorie and carb needs for the day!
Ingredients:
1 scoop of protein*
2 TBS of Oat Bran*
1/4 cup of 45 calorie/no sugar coconut milk*
1/4 cup of liquid egg white
3 oz of yam (steamed or baked)
1/2 TBS of vanilla flavoring
1/8 TSP of baking powder
1 packet of truvia or stevia
5 drops of vanilla flavored stevia
Cinnamon to taste
Directions:
Mix all liquid ingredients to include the yam in food processor or blender. Key to this is getting it super smooth! Pour into all the dry ingredients. Mix and cook like regular pancakes. NOTE: These cakes take longer to cook, so make sure to allow them enough time to dry out a bit. Enjoy!
Macros:
Calories – 323
Carbohydrates – 43g
Fat – 2g
Protein – 27g
Sugar – 3g
Sodium – 216 mg (mostly from the egg whites naturally)