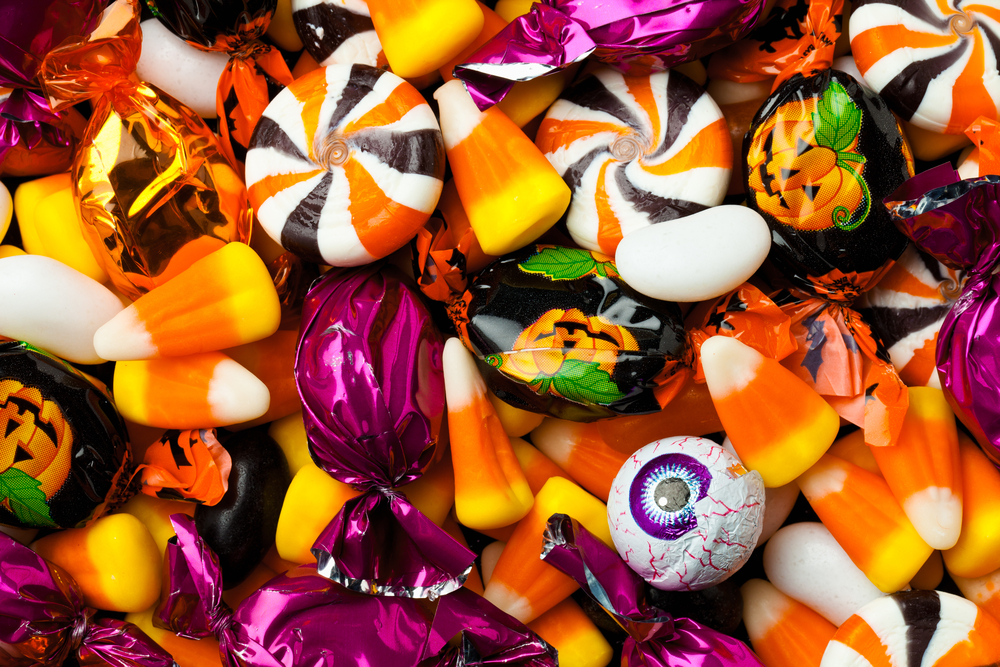 Before you start grabbing the Halloween candy bowl and handing out sweet treats to the kiddos tonight…
I wanted to send out a quick reminder that my free webinar, 4 Steps to Create a Pre-Contest Diet is this Wednesday, November 2 at 7:00PM EST.
I'd love for you to join me!
Free Diet Webinar <<< Register Now!
And Halloween can be even more scary than all the folks walking around in masks and makeup…
It's usually the start of the slide down the diet hill that rolls into the holidays.
Of course its fine to enjoy a piece or two but lets be real. Most of us ain't stopping there.
Once that candy gets in the house, its like a drug.
You are going to need this diet webinar to get things back on track !
But if you haven't gone knee deep into the candy, here are 4 sneaky tips to save you from a swole belly.
Buy candy you don't like.I always notice my husband buys the stuff he likes. Man, these are begging little kids, give them some sweet tarts not Snickers. I'm just saying…
Give it all away…QUICK! Our house is known for the lady that gives out handfuls at a time. It works out for everyone. I get to turn off the lights early and they can go home with a sack full.
Keep it minty.I hate eating anything sweet after chewing gum or brushing my teeth. So keep the sugarless spearmint handy and pop yo collar on that candy.
Deep 6 any left overs.There is no reason to be looking at Halloween candy for days after. Throw it away, and walk the bag to the curb 🙂
I'm excited to be sharing the 4 Steps to Create a Pre-Contest Diet. This webinar is for anyone who wants a jump start on their weight loss goals next year.
Seats are filling up, I'm scared you might miss this one 🙂
Free Diet Webinar <<< Register Now
Did you enjoy the tips? POST a reply and make sure you sign up for the free diet webinar.