SPICY TURKEY STIR-FRY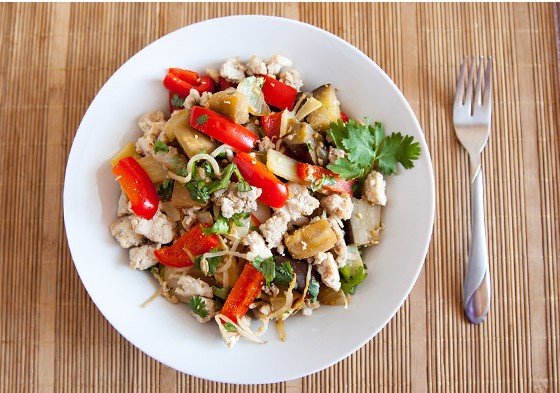 Ingredients
1 lb 99% lean ground turkey
1 medium onion, chopped
3 tbsp minced garlic
Red chili pepper
1 large eggplant, chopped
Gluten-free Szechuan sauce, to taste
1 bunch cilantro, chopped
8 oz. can water chestnuts, drained
8 oz. can sliced bamboo, drained
1 oz. can sprouts, drained
Liquid aminos or gluten-free soy sauce, to taste
Directions
1. Add turkey, onion, garlic, and pepper to a large wok or pan and cook over medium
heat until turkey is lightly browned.
2. Add eggplant and Szechuan sauce. Cover and cook, stirring occasionally, until eggplant is browned.
3. Add bamboo, water chestnuts, sprouts, cilantro, and liquid aminos or soy sauce.
4. Cover and let simmer for about 8 more minutes.
Nutrition Facts Serving size 1/5 recipe
Recipe yields 5
Calories 175
Fat 1.4 g, Carbs 16 g Protein 24.2
Join my 5-week figure & bikini prep course with more recipes, workouts, and meal plans to hit the stage!