I wanted to take the time today to encourage you to make this the year you finally step on stage…
No matter how old you are–I know if your mind is made up, nothing can stop you!
Case Study: Renee,  44 year old mom of two boys, 8 and 11 years old, wife and business owner training for a bikini competition. She shared 3 secrets during our check-in that helped her get amazing results even during the holidays!
 1. Hire someone to take the guess work out your program. I wanted to do a show before I was 40, being a parent and business owner, life just got in the way. Now I'm 44 and it seemed even further away from reality but I researched the internet and found Kimberly. After getting a consult, I realized her program was exactly what I needed. I am busy and could only do this if I had professional coaching. I do not have the time, knowledge or experience to figure out my meal planning and workouts and still be a happy, healthy mom, wife, business owner. The last thing I wanted to do was waste any time. 
2.  Be mindful of everything that goes in your mouth, stay focused and be prepared! The older I get the more this rings true. These past holidays proved that having accountability and focus allows you to stay on track no matter what is going on around you. Sick kids, travel and holiday foods normally would have derailed me but seeing results made me think about every food choice.
3. Keep positive thoughts, trust the process. Getting out of my head, Kimberly is guiding me through that process, slowly, but we're getting there! It's more mental as I get older than physical. Anyone can put the work in–it's letting go and having faith the work will pay off in the end. If I can do this anyone can!
                                                                             – Renee Curzie
Renee stepped on stage and took home two 1st place trophies!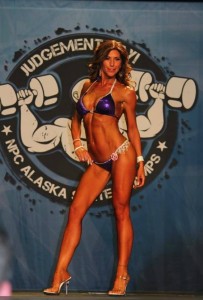 If you are on the fence about competing because you are over 40, let that go! There are tons of options for newbies, let's chat to see what's best for your debut. Schedule a complimentary assessment
here
.