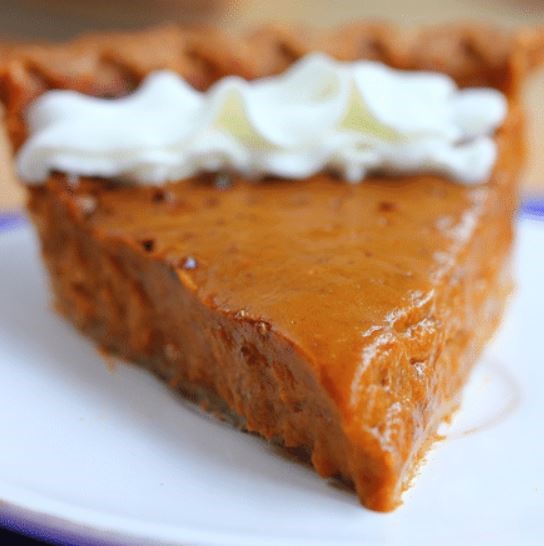 Healthy Sweet Potato Pie
Ingredients
15 oz sweet potato puree
1- 3/4 cup milk of choice (good with canned coconut milk)
2 tsp pure vanilla extract
2 tbsp coconut oil OR more milk of choice
1 Tablespoon plus 2 teaspoons of Truvia Brown Sugar
2 tsp cinnamon
2 tsp nutmeg)
1 1/2 tbsp rolled oats (use food processor to make into flour consistency)
1 1/2 tbsp ground flax
1/4 tsp + 1/8 tsp salt
Instructions
Preheat oven to 400 F and prepare a pie crust in a 9-inch pan (I list a crust recipe below that you can use if desired). Blend all pie ingredients until completely smooth – or you can use oat flour instead of oats and stir by hand. Pour the filling into the crust, then bake 30 minutes on the center rack. Don't open the oven door but turn off the heat and leave in the closed oven another 30 minutes. Take out the still-underbaked pie and let it cool. Then transfer the pie uncovered or very loosely covered to the fridge, where it will firm up after 5-8 hours or overnight.
Optional Crust Recipe – Or you can use your favorite pie crust instead of the one below:
1- 1/2 cups Gluten free all-purpose flour
1 tsp salt
2 Tablespoons plus 1 teaspoon Truvia brown sugar
1/2 cup canola or vegetable oil (80g)
2-4 tbsp water (I used 3)
Preheat oven to 200 F. In a large mixing bowl, combine dry ingredients. Add the oil and stir. Add water as needed until it just sticks together but is not yet gummy. Press evenly into a 9-inch pie pan. Put the crust in the oven and immediately increase the temperature to 350 F. The crust will rise, so either use pie weights during baking or just press the pie crust back down after baking. Bake 15 minutes. Let cool. Then use in the above sweet potato pie recipe.
Macros: 240 calories (per slice), 30g carbs, 4g fat, 4g protein, 3g sugar, 4g fiber
Get training and nutrition coaching here.