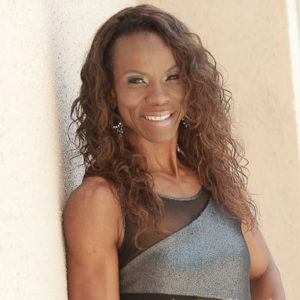 I am an IFBB Figure Professional and Fitness Expert with over 23 years experience in the health and fitness industry. I have a certified personal training certificate with the National Association of Sports Medicine (NASM) and a member of IDEA Fitness Association as on their expert speakers.
Helping people get into the best shape of their lives has been my passion. I've been able to help hundreds of clients reach their ultimate fitness goals. Whether it's shedding unwanted fat, reshaping your body, putting on more lean muscle, or getting ready for your next competition–train with me and finally get the body of your dreams! Check out all the training programs I offer below or go to my Training Questionnaire and get started today!
Personal Training (In-Studio or Online)
Kimberly offers training in her private studio or online. Kimberly's personal training programs include:
Initial measurements, program design, and goal setting
Ongoing assessments and  program adjustments based on results
Weekly structured workouts in the studio, your gym, or at home.
Customized meal plans that include the macro-nutrient (macros) breakdown and convenient grocery list

Quick and easy recipes (optional)
Monthly training and cardio calendar
Travel plans (optional)
Supplement consultation for your individual training goals and overall health
24/7 healthy lifestyle coaching and support
Healthy snacks, fresh filtered water, and towels provided each workout (In-studio)
and more!
Figure & Bikini Coaching
Whether you want to compete or just get the body of a competitor, Kimberly will design a custom training program that will get you amazing results! She offers 16-Week coaching packages that include:
30-minute phone/Skype meeting to officially kick-off your contest prep.
Customized meal plans with macros that are adjusted based on your weekly results. No foods you dislike will be on the menu!
Training & cardio programs designed to build & retain muscle, create shape, balance and the right level of conditioning for the stage.
Weekly progress check-ins via email to ensure you are on track and make necessary adjustments.
24/7 access to Kimberly via text/email for unlimited questions about your program.
Posing guidance & critique to perfect your stage presence and style.
Peak Week Plan that lays out the exact foods to eat and the right t raining & supplements to get dialed in safely.
Day of show coaching to ensure you bring your best package to the judges.
Post show 30-minute phone/Skype meeting to recap your show results, provide feedback, and a post show plan for healthy transition.
Consistent motivation and accountability throughout your prep.
…and Special Bonuses!
Not sure which training program is right for you? Complete this questionnaire to get started here.