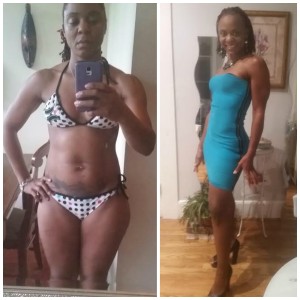 I've always struggled with my weight, it's  always gone up and down. In the past I've had problems with negative self talk, motivation, and horrible eating habits.
I remember about three years ago, my daily routine was McDonald's large fries, 2 cheeseburgers, a diet soda, and a McFlurry.
Food became my comfort, and I absolutely adored eating.  A few years ago I got into running and Crossfit and fell in love. However this only gave me a bigger excuse to eat more and more. At my highest I tipped the scale at 190. I was always known as the "thick girl."
When I first started Kimberly's Jump Start Program, I was 175 pounds and I was really hesitant to even try. For a while, I had been getting the run around from coach after coach. I really wanted to invest in someone that could learn my body, help me eat better, and keep me focused in the gym.
Well Kimberly exceeded all my goals. I'm now looked at as the fit girl. I've lost over 25 pounds, I feel and look amazing! I would recommend this program and Kimberly as a coach to anyone reluctant to believe they could get these type of results. My story is just one of the many transformations I've seen from her. I've now decided to place Figure Competitor on the bucket list and when I'm ready–Kimberly will help me rock the stage!
From "thick girl" to "fit girl."
Michele