Are you a newbie figure competitor who is planning on doing a show in 2014? Do you have tons of questions and not really sure where to start? Wondering how long it will take for you to get stage ready? Worried about what happens to your body after you step off stage? Not sure how to build enough muscle and get the right amount of lean to be competitive?
If you answered "YES" to any of the above, I invite you to take my Contest Prep Secrets JUMPSTART Course!
Allow me to introduce myself if we haven't met yet…my name is Kimberly Doehnert, IFBB Figure Pro and creator of Contest Prep Secrets University!
My journey to the stage started with me losing over 50lbs in 1994 and competing in my first bodybuilding competition. I was so inspired by the whole experience, I decided to become a personal trainer to help other people change their lives by improving their health.
Over the years I worked in and out of health and fitness industry. Finally, after getting my MBA in 2007, I decided to quit my Corporate America job and devote my life to helping people manage healthy lifestyles. I opened a private studio near Washington DC.
Even as a certified personal trainer, I would get complacent and make excuses for not being in the best shape of my life. Looking for something to motivate me, I decided to sign up for a figure competition. I quickly realized that training for figure was more complex than what I had learned about fitness over the past 18 years.
So after scouring the net, I became a bit frustrated by the type of training material that was available. At first, I couldn't find any simple, straightforward, step-by-step programs that actually worked. But after lots of trial and error, I found some solid training tips and I prepped for my first competition in 2011 and won 3 trophies! I was totally hooked and couldn't wait to do another show just 3 weeks later and won 3 more trophies!
After cracking the figure code, I trained for 28 months straight, did 8 shows, and won my IFBB Pro Card! I wanted to share the secrets I learned with other first time figure athletes. So, I put together a detailed system called Contest Prep Secrets that can get you stage ready in 16 weeks or less! Over 5,000 women have purchased my program with huge successes!
Now, I've taken this amazing program one step further…
Introducing Contest Prep Secrets JUMPSTART, a 5 week jump start training course turning newbies into champions!
---
Hear Directly From Laurene About How This Program Literally Changed Her Life…
More Praise for the Program
"Kimberly, your e-book course has been the BEST single source of information for a beginner in figure competitions I've found. I've underlined, taken notes, visited the websites and learned so much that I couldn't find any other place. Thanks for your time and sharing your expertise with others."

— Aimee Blair Spencer
"Kimberly, so far I am loving your prep system and it makes me think all the other programs out there have been a waste of time. I've competed twice before but never got as lean as I needed to be. Thank you for putting this course out there for beginners like me to learn from."

— Jodi Warthen
"Ladies, if you really want to get started working towards your first figure competition, I HIGHLY recommend Kimberly's detailed Contest Prep Secrets! It's been super helpful! Although I am training for a bikini competition, I used this course as a starting guide and tweaked as I began learning what works for my body."

— Elizabeth Harris
Contest Prep Secrets JUMPSTART Course Contains 5 Weeks of Training That Includes:
[Week 1 Module #1 ] Introduction to Stage: What It Takes To Train, Compete, and Win
Overview of competitions and federations
Rules and requirements of the sport
The competitor budget
How to determine when to start your prep
[Week 2 Module #2 ] Competitive Dieting, Training, and Supplementation: Getting Stage Ready
How to eat for muscle growth and leanness
The training method that works best for figure and bikini
What are the basic supplements for figure and bikini
How much cardio you should do and which types work best
[Week 3 Module #3 ] Presentation: Showing Off Your Hard Work
What the judges are really looking for
Posing basics and how to exude stage presence
How to select your suit style, color, and design
Finishing touches to make you pop on stage
[Week 4 Module #4] Peak Week: The Final Cut
What foods to cut and when
How to remove excess water
What diuretics are safe to use
Understanding the "peaking process"
SPECIAL Peaking Grid detailing the final 72 hours
[Week 5 Module #5] Post Show Expectations: Finding Balance
What happens to your body after competing
How to have a healthy post-contest
Tips to prevent the post show blues
When to compete again–setting goals for next show

"I am and will be forever grateful for Kimberly's program. I sent a photo to my former trainer and he said I had no business looking like this 10 weeks out.All because of being dedicated to Kimberly's e-course, trusting the process, and putting in the work. No matter where the journey takes me, I will forever be grateful to you Kimberly!"

— Laurene Engelbrecht

"Loved the journey and the knowledge I gained. This is the place to start with your contest prep!
It's laid out, concise, organized, easy to follow. The group of girls that I met (that I can now call my friends) in the course are very special to me! Thank you Kimberly and Contest Prep Secrets University!"

—Felicia Christianson

"I must say, I am in AWE. Even though my competition was last year 2014, I am still in awe of what I was able to achieve with the help and guidance of Kimberly. She was encouraging, supportive, stern when I needed to buckle down and ecstatic over my wins. She often had more confidence in me than I had in myself. I still remember her words….trust me, you just do the work.

I know I could not have gotten to the stage and "showed out" without her stage ready formula. I am so looking forward to my next competition. My journey started right here with Contest Prep Secrets University!"
---
How Contest Prep Secrets JUMPSTART Course Works
Contest Prep Secrets JUMPSTART course will run from February 15, 2015 – March 22, 2015. This figure prep course is broken up into 5 teleseminars, held on Sundays at 1:00-2:00pm ET. You can attend LIVE via the telephone dial in or listen after as everyone will get a MP3 replay sent following each class. During this 5 week long course, we will delve deeper into figure training concepts using  Contest Prep Secrets as our main course material.
The course is designed to give you a hard outline of how to successfully train for figure or bikini and takes you through defined phases & progression. Each week,  I will cover specific topics and will be sharing everything I learned training and becoming an IFBB figure pro in less than 28 months!
This is a LIVE course conducted by me personally each week allowing you to ask specific questions and get help with your prep along the way. ALL of the completed  classes will be posted in a private membership site for download.  Upon registration, you will receive a welcome email with a link to access the course downloads. You will also receive your bonus hard copy version of Contest Prep Secrets mailed to your home!
How Much Contest Prep Secrets JUMPSTART Course Costs
I am offering this LIVE  contest prep course at a very affordable price point:  $397 $297 to make it accessible for as many ladies who need the help as possible. Considering that my figure coaching packages range from $5,000-$7,500, this 5-week course is a NO-BRAINER with over 5 hours of live training, Contest Prep Secrets materials, unlimited access to me in our Private Facebook Page for ALL your questions and some really cool bonuses…
Here is Everything You Get When You Register For Contest Prep Secrets LIVE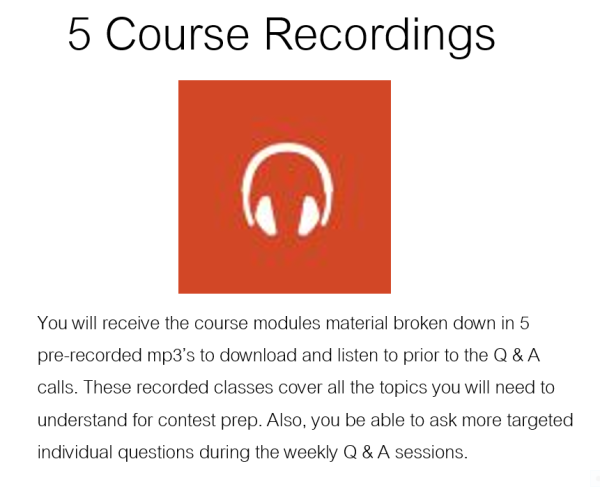 [divider style="1″]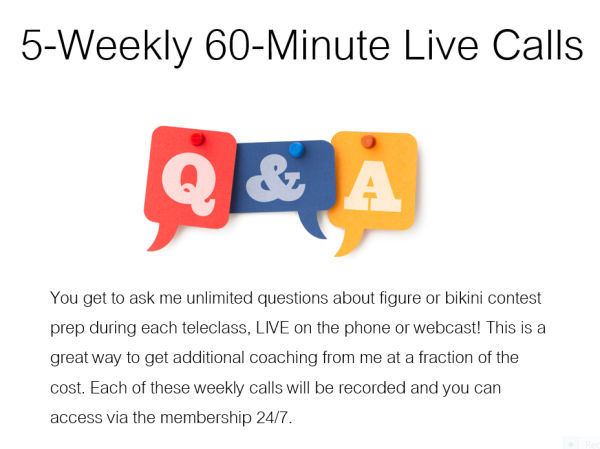 [divider style="1″]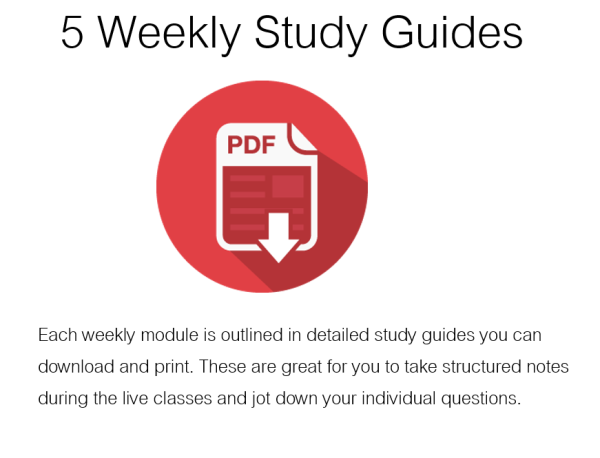 [divider style="1″]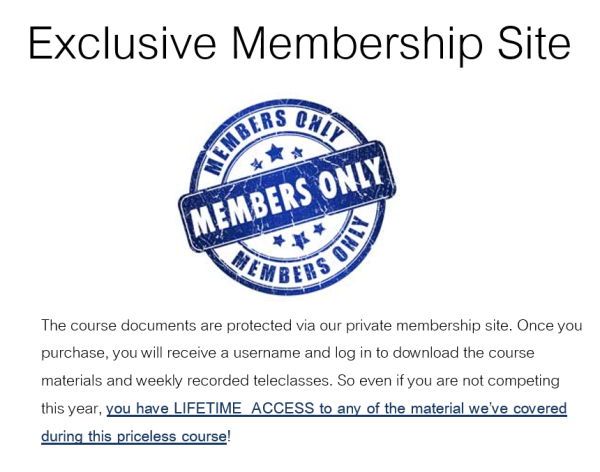 [divider style="1″]

…but wait! Grab these amazing bonuses!
[divider style="1″]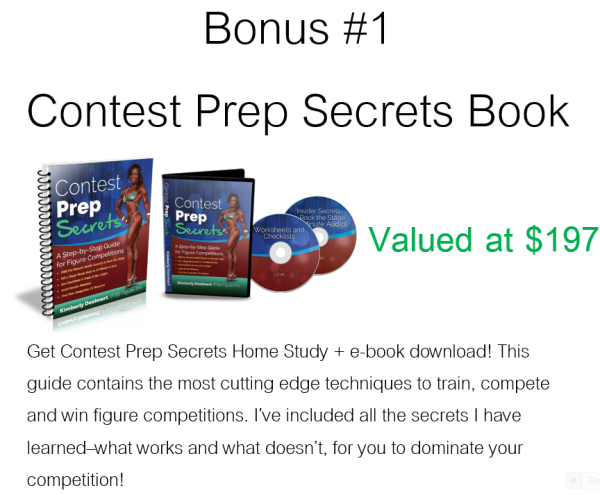 [divider style="1″]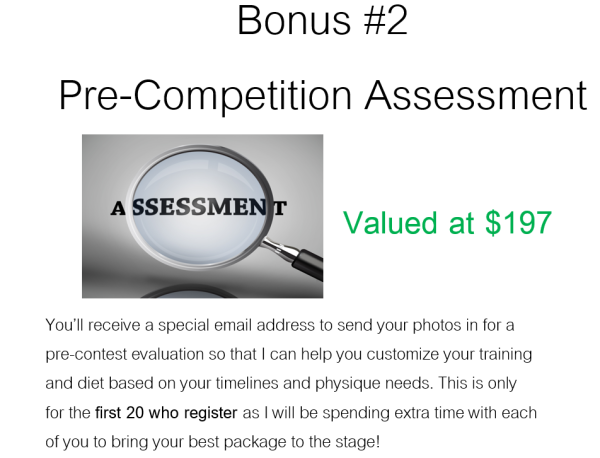 [divider style="1″]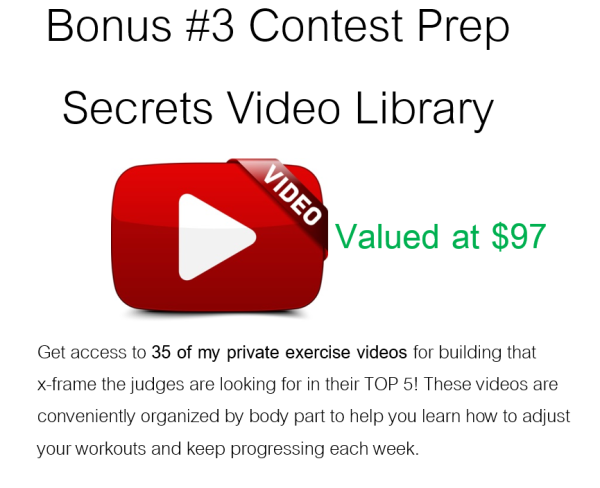 [headline style="11″ font_size="20″ font_font="Shadows%20Into%20Light" align="center"]
This program is valued at over $888! Don't wait, take action right now and get everything for only $297!
[/headline]
[pricing_element]$297[/pricing_element]

---
"Kimberly, I am a firm believer in your program, because it worked for me! The pictures don't lie! Especially mine! I can't believe what I see in the mirror, I went from too skinny, not much size to adding 17lbs of lean muscle mass and becoming a show stopper! Your program really did give me the confidence to step out on that stage and kill it winning 5 trophies my first time out! You Rock Kimberly"

— Terra Brown
Contest Prep Secrets JUMPSTART Course is Right For You If:
You are a first time figure competitor and want to learn how to properly train
You are looking for accountability to finally start training for a show
You are serious about building a stage ready body
You want weekly support to jump start your results
You have competed once or twice before but want to improve your placing
Contest Prep Secrets JUMPSTART Course is NOT Right For You If:
You're still not even sure if you want to compete and are looking for someone to convince you
You are not able to put in the time necessary to properly prep for figure
You are not willing to sacrifice most of your social life
You are not willing to invest in your dream of competing
You are working with another figure coach
A Few Common Questions
What if I have already competed before?
Great! You can still take the course if you've done a few shows and are looking to improve your placing. But if you are a seasoned figure athlete and working with other coaches, programs, or using my custom prep programs–you should skip taking this beginners course
What if I've previously purchased Contest Prep Secrets? Is there a discount?
There are no additional discounts. This program is a 5 week live course with replays that includes information outlined in the book. This course provides additional coaching and tips not included in the book.
What if I change my mind about taking the course? Can I get a refund? 
Please be sure that you are ready to take full advantage of Contest Prep Secrets University before you register for the class. Because this is basically an e-course with all the material made available to you electronically, your registration fee is NONREFUNDABLE.
What is the purchase process? 
Once you click "Register Now" you will be taken to a payment screen from "Kimberly Doehnert"
Once you choose your payment option, you can enter your information to purchase.
Once you confirm, please wait. You will be redirected to the registration confirmation page with all the information for the class and next steps.
You will also receive log in information to the course membership site which will be where all the course documents are uploaded.
Any questions not addressed here? Email me at: admin@kimberlydoehnert.com
Contest Prep Secrets JUMPSTART Course programs are run in 5 consecutive weeks and can't be broken up. The day you purchase, the course manual(s) are sent to you through the mail and e-download via email.  All fees are USD and charged immediately once purchased. Non-refundable and non-transferable. There are no guarantees of individual results but those who follow the program have a higher probability of success. Additional restrictions may apply.

* Disclaimer: The information in this program was generated from scientific and medical research from various experts in the body building industry. I have several years of experience in researching, developing and following fitness and nutritional programs, and the information presented in this program is of my own personal and professional opinion and does not necessarily reflect those of other organizations, professionals, or government bodies. Any healthy, active adult can attempt this guide safely, however, the user should consult with their physician first, especially if any cardiovascular, pulmonary, or metabolic symptoms exist, before following any nutritional and exercise programs in this program. The outcomes depicted in testimonials are no guarantee of future results using this program but are an indication of their personal effort and success. The user assumes all liability and risk associated with undertaking the suggested diets, supplements, and programs in this program.