Then Watch This Video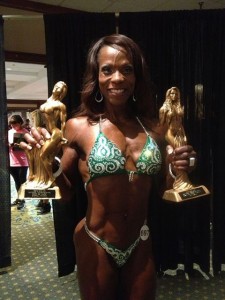 Wednesday, November 25, 2015
Do you want to compete but don't have a clue where to start?
Or if you can put on enough muscle to be competitive?
Are you wondering whether or not you could get lean enough in 16 weeks or less?
Maybe you've had kids and think you can't get that kind of body?
Feeling like you are too old to compete???
Ladies, the answer is YES! You can step on stage and WIN…with the right program!
My name is Kimberly Doehnert and before I became an IFBB Pro, my journey to the stage started pretty much like many of you…
I got super excited & motivated to compete for the first time and believed like most newbies that putting all my energy into training hard in the gym would be all I needed to transform my body from fit to figure. I quickly realized there was more to preparing for a competition than just killing the weights! So after a few months of being disappointed & frustrated with the fact my body fat wasn't dropping fast enough and I really didn't look any different–I sat down and faced the truth…
"Kimberly, you are going to need to learn the true SECRETS of building a stage ready body!
And again, like most of you, I was totally frustrated with all the conflicting information on the web and in the gym from people who just wanted to sell a product that ultimately wasn't going to leave me with a body I could be proud of on stage. The judges are looking for a specific body style, presentation and confidence that only comes with following the right system all the way through your contest prep.
Ladies, you would not believe how many hours I spent scouring the web, talking to professionals in the industry, doing my own research in the gym and kitchen, trial and error…to finally crack the figure code!  What I found through this process was that there were 5 distinct steps you need to go through not only to win your competition but also end up with a healthy post-show body. This is one of the things that keeps many women from even trying to compete. Fear…
The fear of gaining all the weight back and not being able to find balance after stepping off the stage. Many newbies end up gaining as much as 20 pounds the first few weeks after their show because they weren't prepared with a plan in place to manage all the changes the body will go through after competing.
Here Are the 5 Steps to Winning Your First Figure Competition…
Step #1 Know What to Expect (introduction to figure)
Step #2 Get the Competitive Edge (winning diets & supplementation)
Step #3 Learn How to Manipulate Training & Cardio (build muscle while getting lean)
Step #4 Master Your Presentation & Peaking Process (getting dialed in to own the stage)
Step #5 Have a Post Show Strategy (finding a healthy balance to do it again)
I put everything I learned over the past 3 years of competing and ultimately becoming an IFBB PRO in this comprehensive, easy to understand, step-by step system called Contest Prep Secrets!
Now you can learn the exact SECRETS that have helped thousands of women just like you train, compete and WIN their figure competition!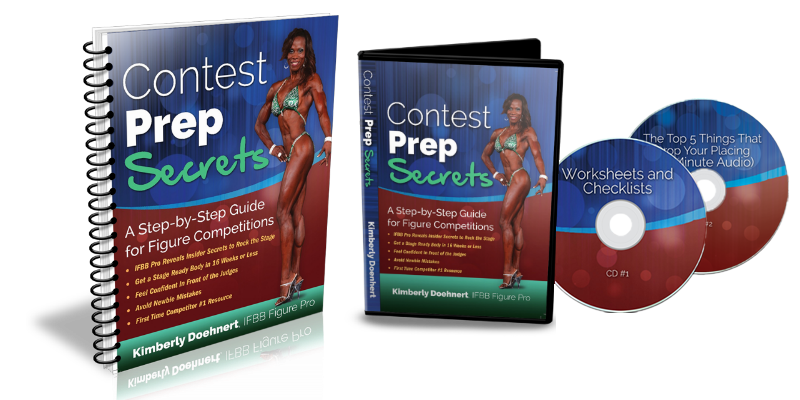 Get the Contest Prep Secrets Home Study program shipped directly to your front door!
The System Includes:
You asked for it! A spiral-bound training manual with the system and bonuses inside.
You get a disc with worksheets & checklists you can fill out and re-use any time, for every competition.
Printed color copies of the worksheet & checklists
And, you get an exclusive 70-minute audio figure training teleclass.
What's Inside the Workbook?
A step-by-step guide from 16+ weeks all the way to the stage
How to begin your prep and get the most from your program
3 Phases of training, diets, and supplementation
Food exchange lists to create UNLIMITED meal plans!
The actual diet I typically use 8 weeks out
Emergency workouts & diet plans (for ramping up fat loss)
The right way to carb cycle for figure
Peak week revealed – the final 7-10 days
Pro tips to get rid of excess water
Final presentation tips
Basic posing instructions
Secret tips to help you place your first time on stage
And so much more!
You get these 5 Bonuses 
included INSIDE the workbook!
(UPDATE: To make it even easier for you to tote to the gym, we've added these bonuses INSIDE of your book. Check for a tab in the back. )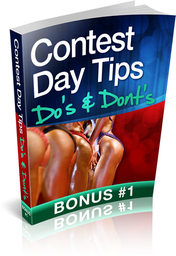 Contest Day Tips
Finally, competition day is here! From the time you get up, until the moment you walk across that stage–everything you do should be focused on bringing your best package to the judges. It can get pretty confusing for a newbie figure athlete backstage with so many exciting things going on around you. Contest Day Tips goes over what foods are good to eat and when backstage, when to drink water, what happens when you step on stage, which supplements to take that will make your muscles look full (not come up flat and small) and more SECRETS used by the pros!
---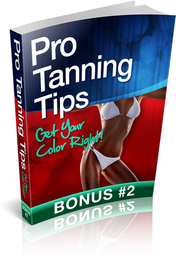 Pro Tanning Tips
It's important to have a deep tan because of the bright stage lights. They are different from the lighting in your home and without a dark even tan—or you will look totally washed out! You will stand out like a sore thumb if you are too "white" or sporting a weak tan. One thing you don't want to do is treat tanning as an afterthought. This is a very important part of your overall presentation. Learn when to start your tan, how to prep your skin, avoid the dreaded "green" look, and the final tips to SHINE on stage!
---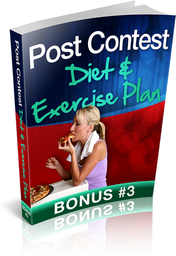 Post Contest Diet & Exercise Plan
Now that you have stepped off stage, you need a plan for transitioning back to a healthy pre-contest fitness level.  One of the things that keeps many figure athletes from competing is the fear of gaining all the weight back right after their show. It is normal and necessary to increase your weight but if you don't prepare, it may be hard for you to find a balance between being stage ready and fit. This post contest plan includes a sample diet that helps you increase your calories and training schedule for cardio and weights. There is also a sample total body training circuit that allows your muscles to recover the first 4 weeks after your competition.
---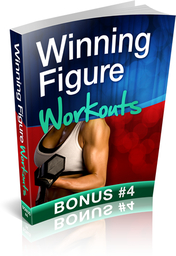 Winning Figure Workouts
In order to increase muscle mass and reduce body fat, a figure competitor has to complete some hard core workouts. These workouts have to include the right level of intensity and be progressive to see results week after week. Winning Figure Workouts includes extra workouts for the gym and at home to keep from adapting too quickly in Phase 1. Also, I developed a complete figure workout (5 days a week split) using the TRX–the only one of its kind!
---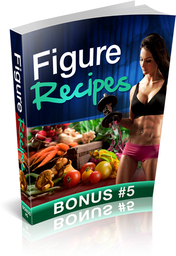 Figure Recipes
Dieting for figure can get pretty boring, so I compiled some great recipes from real figure girls to help you stay on your diet and reach your competition goals! Depending on where you are in your contest prep, some of these recipes may need to be altered to adhere to your specific calorie needs. Each recipe includes the macronutrient breakdown to help you easily adjust throughout your prep.
---
I made the protein bars and loved them! Thank you for sharing. *

—Stephanie Santisteven

Why Should You Use Contest Prep Secrets?
If you want to step on stage for the first time…you also have to want to win!
"Winning isn't everything but wanting to win is." – Vince Lombardi
What really makes this program different is that it covers all the aspects of actually training, competing and winning a competition. You don't need a 200+ page manual with a whole bunch of fluff and pictures that are lacking real techniques leaving you empty handed on the stage. Contest Prep Secrets was developed by me, a real IFBB Pro and coach! I know exactly what it takes to build a body that will dominate your competition and get the judges attention (in a good way).
Stepping on stage unprepared will make it real easy for the judges to put you in the last call out. The judges are NOT looking for what's great about your physique but rather zeroing in on all the things that are WRONG!
And I'm telling you, they have seen thousands of athletes and they know a winner when they walk out on that stage and step into the center box. You only have about 10 seconds to wow the judges and secure your spot in the winner's circle!
Do you really want to win?
Contest Prep Secrets was developed by me using scientific and medical research from various experts in the industry. I have over 22 years of experience getting women in the best shape of their life and training for competitive events.
As a new competitor, you really need Contest Prep Secrets to make it to the stage! This program was developed by a pro not just someone who did one show, or who trains bodybuilders and thinks that program is exactly the same for figure. I don't give you outdated techniques or tips that will leave you coming up short for your first show.
It would be a shame for you to work so hard and leave the stage feeling like you could have done more if only you had known…
The Cost of Not Using Contest Prep Secrets???
The facts:
The average cost to compete in a figure competition is 3,000-$5,000. And that's not including food! If you think about it–that is how much you would LOSE if you didn't end up stage ready! I promise you this…
Your competition is training hard and following a specific regimen to build a winning physique. Don't be that girl standing on stage looking to her left and right realizing she could have won this thing with a plan! Show up ready to compete by following all the steps in my program, Contest Prep Secrets!
This program is truly for the
newbie figure

competitor looking for a step-by-step program that will get their body stage ready!
But don't take my word for it, check out these AMAZING results women just like you had after using the Contest Prep Secrets system!
..and you get 2-CD's that contain a 90 minute teleseminar w/Gary Udit and worksheets & checklists ($197 value) FREE!
90 minute call with one of top NPC/IFBB Judges, Gary Udit
The top 5 things that drop your placing
Insider tips to help you avoid the newbie mistakes made on stage
…and so much more!
"Great call tonight, thank you for the insight! So appreciated." —Dawn Reichley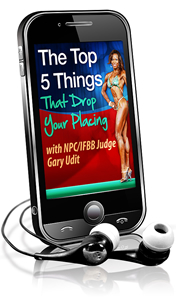 5 Checklists & Worksheets
7-day food journal
7-day exercise & cardio journal
Competitor checklist – getting started
Competition day packing list
Figure budget worksheet
---
Contest Prep Secrets Home Study includes the spiral workbook, 2-CD's, and printed worksheets to get you stage ready in 16 weeks or less!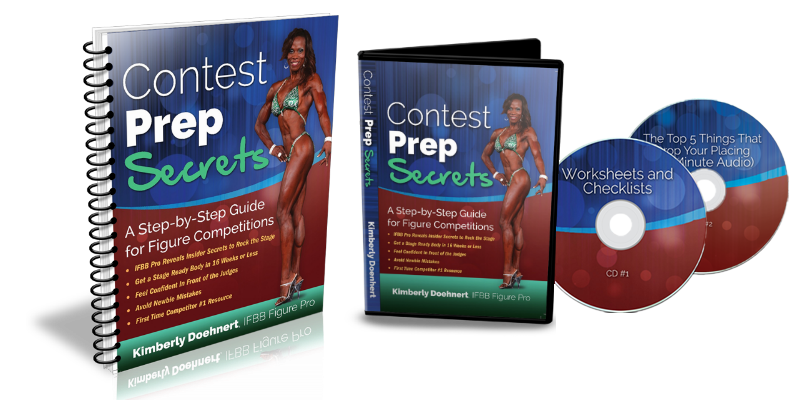 But wait! I'll throw in the E-Download version–FREE! ($97 value)
While you wait for the program to be delivered to your door, you can access the e-book version right now! Even at 2am, you can get started training for your figure competition!
---
 *Please note, the E-Download version includes the manual in PDF format and link to access the bonuses. 
*No refunds on the e-book download or hard copy program. Returns available on defective products. All the items in the program need to be returned to receive another copy.
Frequently Asked Questions
Q: What is the difference between Contest Prep Secrets system and Kimberly's custom figure and bikini coaching program?
A: Contest Prep Secrets is a way to get started immediately on your figure journey. It is a self-directed plan with all the areas of training and preparation covered to help you reach your goal.  Kimberly's coaching programs are custom and designed based on your specific needs and show timelines. There are weekly calls and emails, accountability, program adjustments, and support all the way to the stage! Kimberly's coaching isn't for everyone, but if you want to find out more, click here.
Q: Will I receive anything in the mail after ordering the program?
A: Yes, you will receive the manual which includes the bonus books, 2 DVD's and competitor worksheets. You will also receive the e-book download for free to access while you wait for your book to arrive in the mail.
Q: I just purchased the program and am not able to download the bonus e-books to my iPad, Kindle, etc.
A: The program is to be downloaded to your computer; it's not configured for those devices. You can download to cloud storage to save within these devices like www.dropbox.com.
Q: I just ordered the hard copy book program, when will it arrive?
A: The product should arrive 7-10 business days after you order. If you  do not receive within this time, contact us at SUPPORT.
Q: I just purchased the program and the download link has expired.
A: No worries just email us at SUPPORT to get the program emailed to you. Only purchases from January 2014 to current date are eligible for complimentary links sent.
Q: What if I have questions about the program, how do I get help?
A: The program is designed to be self-directed with everything you need to prepare yourself to be on the stage for the first time. If you would like customized coaching by Kimberly, you can apply here.
* Disclaimer: The information in this program was generated from scientific and medical research from various experts in the body building industry. I have several years of experience in researching, developing and following fitness and nutritional programs, and the information presented in this program is of my own personal and professional opinion and does not necessarily reflect those of other organisations, professionals, or government bodies. Any healthy, active adult can attempt this guide safely, however, the user should consult with their physician first, especially if any cardiovascular, pulmonary, or metabolic symptoms exist, before following any nutritional and exercise programs in this program. The outcomes depicted in testimonials are no guarantee of future results using this program but are an indication of their personal effort and success. The user assumes all liability and risk associated with undertaking the suggested diets, supplements, and programs in this program.